Rum School at Hotham's Distillery 
Yorkshire's Number 1 Visitor Experience
Rum lovers - you don't want to miss this.
Make your own rum in Hull
Come and join us here at Hotham's Rum School, Hull for a rum making experience you'll never forget.

Upon your arrival, we'll greet you with a Hotham's Spiced Rum cocktail. You'll join a group of other rum lovers, in our purpose-built Distilling Room.
You'll smell and taste amazing spices, and choose the ones you like best for your own spiced rum. Our distiller will advise you on the quantities required, and you'll soon have a balanced recipe ready.
You'll learn about the distillation process whilst you enjoy a rum cocktail and we'll encourage you to taste your spice blend as it distils and your spices release their delicious flavours.
You even get to choose if you would like a white or dark rum! 
We'll talk to you about the history and characteristics of rum, and you'll hear about the Hotham's brand - our history, and a little about Lord Hotham himself. You'll have plenty of time to try the very best rums, including our very own Hotham's Spiced Rum.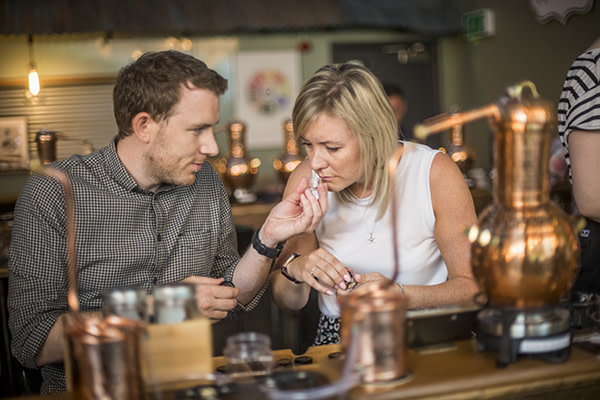 Finally, you'll bottle, name and label your unique spiced rum before wax dipping the stopper to seal the bottle, and finally stamping it with the Hotham's seal of approval.
Don't forget to take graduation photos before you leave Rum School!
You can also rest assured that once you've finished enjoying it, you can buy another bottle - just order online and our distiller will recreate your recipe and deliver a new bottle of your spiced rum, straight to your door.


Minimum age: 18 - There is a Challenge 25 policy in place. Please bring relevant ID with you.

Should you need to change your booking a £50 administration charge is payable.

A hearing loop is in place.

Places left means stills available. You are booking a still for your use or for you and another to share.

We recommend leaving your car at home, and not consuming alcohol before your experience. You are operating a hot still and testing high strength alcohol, and we want you to enjoy your experience safely.


The experience content, equipment used and restrictions may vary.
FAQs
Do I really get to drink rum at School?
Absolutely! You will get to sample our Hotham's rum, distilled on site; so please try and avoid a cheeky pre-drink before you come along to School - you will be operating a very hot still and we want you to enjoy the event safely. 
Can I bring a friend?
Yes, it's a great experience to share. One ticket covers the main guest and the bottle of spirit that you will make. You can bring one guest for a little extra on the ticket price, and don't panic, they will get their own cocktails, so you don't have to share yours! Just add a guest when you check out. We can only cater for two people per still and per bottle of rum distilled. If you want to book for your party, please contact us and we can arrange a private hire of the School for you and your friends.
How long Should I allow for the experience?
Please allow 3 hours for the experience. We recommend eating first and not driving! 
Are there ID or minimum age requirements to enter the event?
By law you must be 18 or over to participate. We have a Challenge 25 policy, so if you are lucky enough to look under 25 or are under 25, please bring ID with you. This is a really important condition of our licence to run the School.  We're sorry, but without ID we may have to refuse you on the day, and neither of us wants that!
How do I redeem a Virgin Experiences Gift Voucher?
You don't need to contact us to redeem a Virgin Experience Voucher. Book in online and select the "3rd party voucher option. You will need to complete the voucher number and PIN box in the booking form.
Can I bring the kids along?
All participants must be 18 or over. We are sorry, but due to licensing restrictions, this is one School that children under the age of 18 are not allowed to attend.
Do you have accessible toilets?
Our distillery is on the second flood of a grade two listed former bank, built in 1879 and therefore is not as accessible as we would like.  We do have a small lift and accessible toilets, but please check with with us first to ensure that the lift is large enough for you requirements. 

What are my transport/parking options for getting to and from the School?
We are in the 'Old Town', so there is easy access from the busses and taxi drop off point in Alfred Gelder Street. We are also within walking distance of the train and bus station. We recommend not driving to the event so that you can fully enjoy sampling our wonderful spirits, and you can sample your own rum as you distil it. However, we do have a range of non-alcoholic drinks for drivers.
I'm always hungry - will you feed me?
No - sorry, we don't serve food. We might be able to wrestle you some crisps from Emma's lunch box, but that's about it. However, there are loads of fantastic independent restaurants and cafes in the area for you to enjoy.
I have food allergies - can you cope with that?
Are you kidding? Have you met Simon, our co-founder? You can compare notes!
We absolutely can help here. We have lots of experience with food allergies and can cater for these. More info can be found here: Allergen Declaration
What's the refund policy?
Should you need to change your booking a £50 administration charge is payable, tickets may be exchanged for gift vouchers to be redeemed at a later date.
I still (still - see what I've done there?) have a question for you, such as: how can I contact you with any questions?
Email or call us and we will answer your questions as soon as we are able. See our contact us page for more details.